Amusement Park Rides Carnival Carousel for Sale
Author:admin Time:2022-05-07
1. Classification of Merry-Go-Round
A: amusement park carousel for sale, classification according to the working principle:
It is mainly divided into upper driving and lower driving merry-go-round. The driving mode of the upper driving rotary carousel horse is the motor+gear drive of the top plate device, while the lower driving carnival carousel for sale is the blower motor. The upper driving rotating horse is more durable and comfortable to sit on, and the price is relatively expensive. The lower driving rotating horse is cheap, which is an economical and practical style to adapt to the market. The driving horse is suitable for luxury shopping malls, large parks, and amusement parks, etc. The lower driving carnival carousel for sale is suitable for customers with a lower budget and is economical and practical.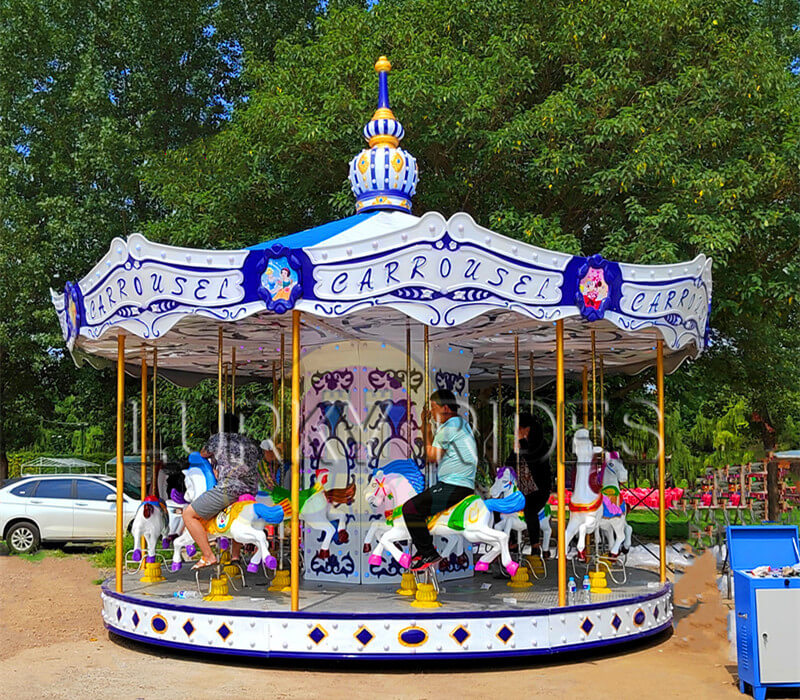 B: Distinguish by configuration:
According to the configuration, it is mainly divided into luxurious and simple revolving carousel horses. The main difference lies in the cornice, ceiling, and lighting assembly of the revolving amusement park carousel for sale. A convenient and simple amusement park carousel for sale is more suitable for mobile operations such as temple fairs, while luxury kids carousel for sale is suitable for fixed places, is suitable for customers with a higher budget.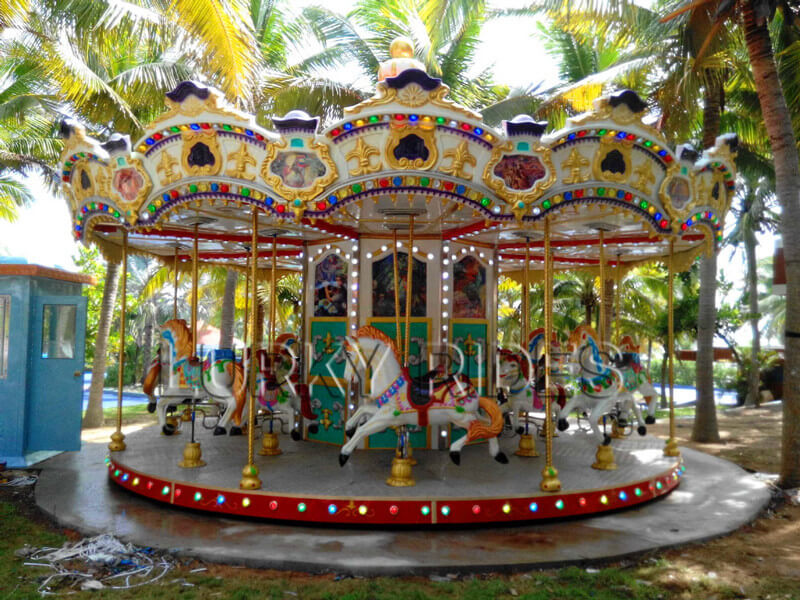 C: According to different age groups of customers:
According to the customer's use site and main customer groups, the merry-go-round is mainly divided into a large merry-go-round and children's merry-round. The Large merry-go-round is suitable for customers with large space and sufficient budget and is also suitable for children and adults. There are 12 seats, 16 seats,24 seats, 36 seats, 38 seats, and 88 seats, etc. small kids carousel rides for sale, occupying a small area. The main customer groups of children's merry-go-round are children, which is suitable for some video games cities, small indoor shopping malls, children's amusement parks, and other places. There are 3 seats, 6 seats, etc small kids carousel rides for sale, occupying a small area.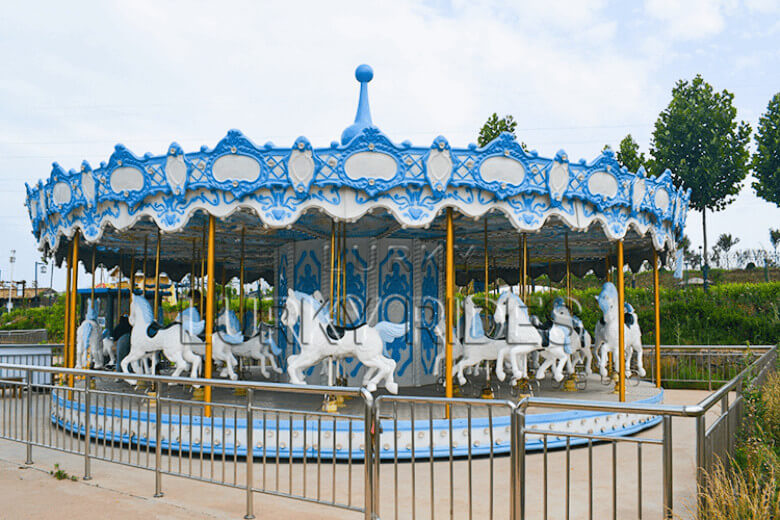 2. How to choose a carousel ride suitable for you?
First of all, amusement park carousel rides is a non-irritating amusement project, which mainly relies on beautiful appearance, colorful lights, and wonderful music to attract people, so the overall shape of the merry-go-round is very important. For large-scale shopping malls and theme parks, large-scale revolving horses suitable for both adults and children are more suitable. Some luxurious revolving horses with novel shapes can also help the whole amusement park or shopping mall to upgrade its grades.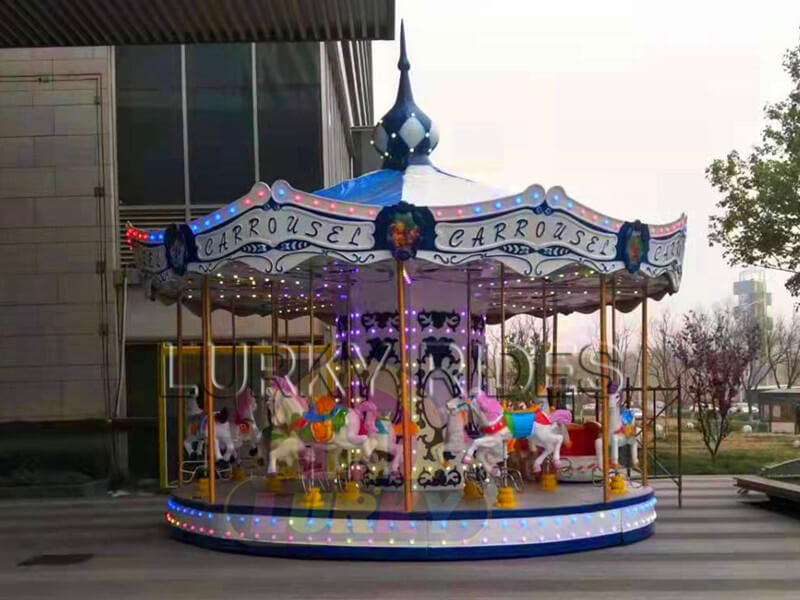 For customers who still need to do business at night, it is best to choose a merry-go-round with colorful lights, which can quickly attract tourists.
For users with small space and a limited budget, it is recommended to use a simple mini-merry-go-round.
For users with unfixed venues and mobile operations, we suggest more convenient carousel rides with trailers.
Specific colors, lights, themes, etc. can be selected by users according to their overall needs and styles of the venue.
There are different themes, European style, retro style, ocean style, dinosaur theme, cartoon theme, fruit theme, and other new styles in Zhengzhou Lurky Amusement Equipment Co., Ltd.
3. Maintenance of merry-go-round equipment.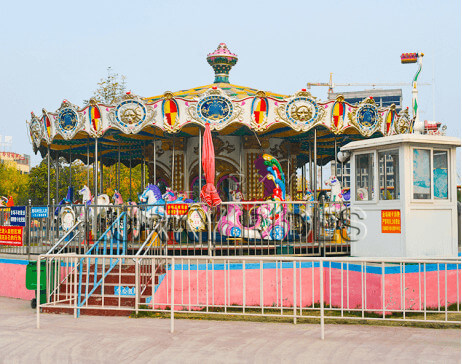 1. Every day after work or before going to work, carefully check whether the fasteners are loose; Whether there is any looseness abnormality in all parts and welds, and whether there is any abnormal sound during operation; if there is any abnormality, stop the merry go round immediately, find out the reason and thoroughly remove it.

2. Grease rolling bearings and gear pairs every month, and lubricate rolling bearings once a day.

3. The site and the whole equipment should always be kept clean. If there is dirt on FRP, it can be cleaned with soft cotton yarn and a little laundry detergent. After wiping, it should be rubbed and coated with an automobile wax polish.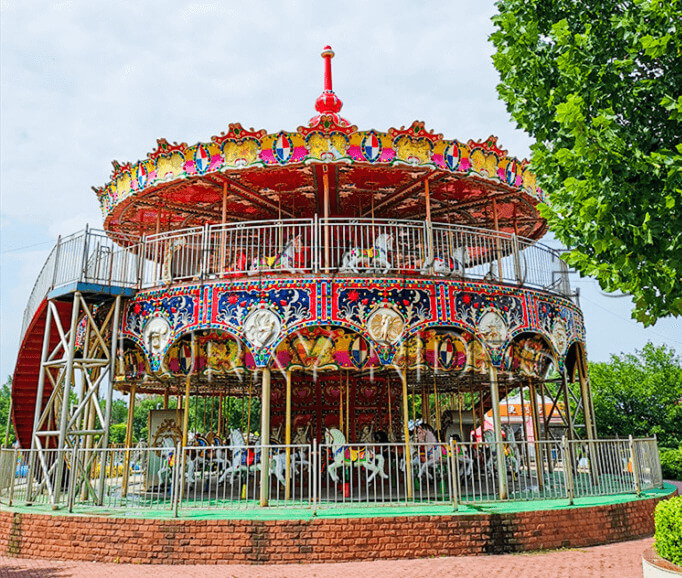 4. Maintenance of the whole machine is generally once every six months; The main transmission parts shall be cleaned, oil changed, and worn parts replaced. Check the key parts for serious wear and tear, cracks, welding, and other abnormalities; If found, they must be removed.

5. After the merry-go-round is used for some time, the equipment should be overhauled as a whole to ensure that the luxurious merry-go-round can be in good running condition. Every fastener of merry go round machine should be inspected frequently, find out the reason in time if it is loose, repair and fasten it in time, and avoid accidents.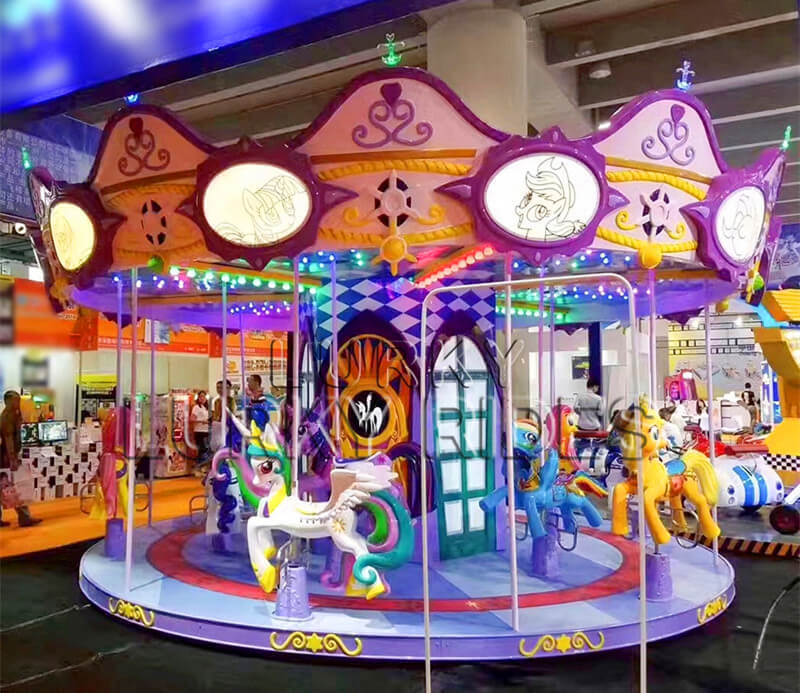 Zhengzhou Lurky Amusement Equipment Co., Ltd. is one of the biggest amusement equipment manufacturers, our products include carousel ride, flying chair ride, trackless train ride, thrill rides, sightseeing car ride, pirate ship rides, bumper car ride, water tricycle, water boat, kid rides, family amusement park ride, coffee cup ride, flying car ride, self control plane ride, train with trackless ride, inflatable bull ride, etc. Our amusement park rides had exported to Southeast Asia, South Africa, the UK, Australia, Europe, Russia, America, Italy, Middle East, and other countries and areas, enjoying good reputations.

Welcome Contact Us for Details
Zhengzhou Lurky Amusement Equipment Co., Ltd.
Email:
info@lurkyrides.com
Phone/Whatsapp: 0086 18135685390