Amusement Park Rides Flying Chair Rides Introduction
Author:admin Time:2022-05-07
1. Operation of Giant Swing Chair:
The theme park shaking head flying chair rides is a large-scale flying tower amusement machine that integrates various sports forms such as rotation, lifting, and tilting. When the umbrella-shaped turntable and the middle turntable rotate reversely and start, the tower rises slowly. At this time, the turntable swings, and the flying chair is wavy.

2. Passengers experience:
Tourists seem to be flying and floating in the air, and the sky is wide and thrilling. The equipment is majestic, and it can also be equipped with different gorgeous lighting and colorful pattern design according to the needs of different people, and its shape is gorgeous. At the same time, different themes can be designed according to different themes and venue requirements, which is very attractive whether in the day or at night.


3. Classification of flying chair ride:
According to the principle of operation, flying chair rides can be divided into luxurious flying chairs with shaking heads and ordinary flying chairs. Deluxe flying chair rides with shaking head has the function of tilting and swinging, while ordinary flying chair only has the function of rotating.

According to the classification of appearance, it can be divided into large flying chair rides and small flying chair rides.

4. Use place offlying chair ride:
Large flying chairs are generally used in outdoor large amusement parks, some large theme parks, or entertainment places in some scenic spots.
Small flying chairs are generally used in shopping malls, children's playgrounds, children's theme parks, etc.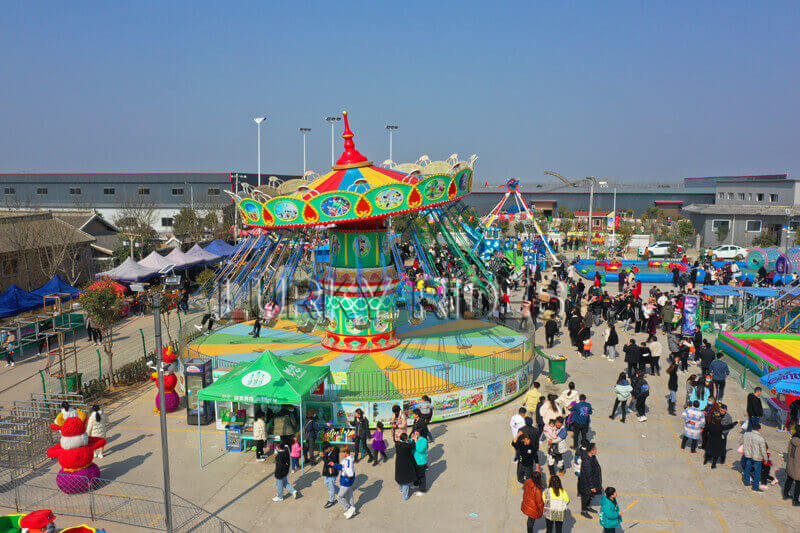 Customer case of our flying chair rides

It is a new flying chair ride with a dinosaur theme for our Italian clients. Customers require an attractive dinosaur-themed flying chair suitable for children and also adults. It should be very interesting and attractive, but at the same time, it should not be too thrilling. And also because Italian customers need to open the business at night, so according to customers' needs, our company has designed and developed a new flying chair with a dinosaur theme, Each seat has a small dinosaur, which is very cute, which is very suitable for customers' park theme. And this new flying chair is bright in color, fresh and pleasant. Coupled with the colorful lighting decoration, the customer feedback said that it has increased a lot of benefits for his park, and looked forward to the next cooperation.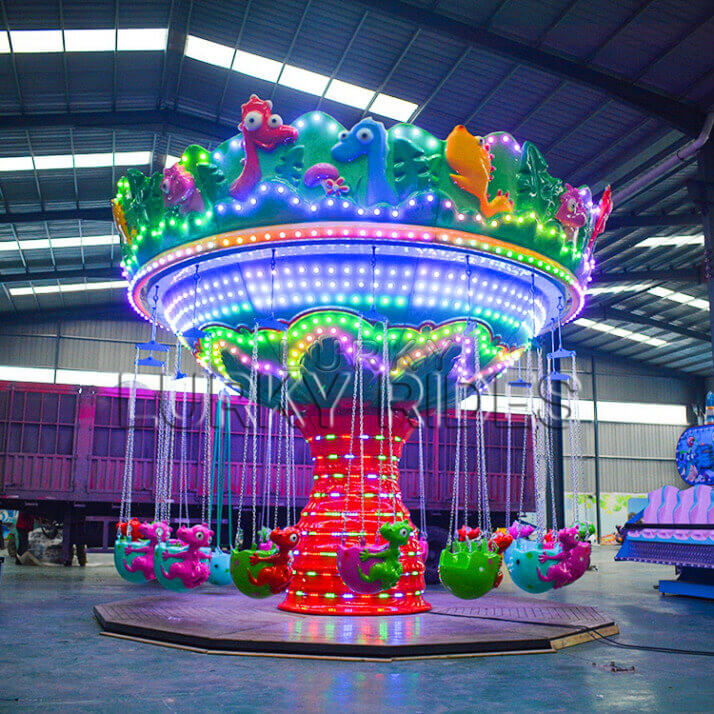 There are some questions about flying chair rides clients usually will concern.

1. How many persons/seats do you have for the flying chair rides?
We have there are 6, 12, 16, 24, and 36 conventional flying chairs. Also can customize according to clients need, and we can recommend you suitable size and capacity flying chair rides according to your space.

2. What is the process of the whole order?
First of all, we will confirm with you the style, seat and other information you need. You can tell us your requirements, and then choose the flying chair you need. Then we will arrange production after you pay part of the deposit. After the production is completed, we will send you the photos of the equipment, and we will help you arrange the delivery after you confirm that it is ok and the final payment is completed.

3. How about the delivery time?
Large flying chairs need about 30 working days, while small flying chairs can be produced in about 15 working days. After the production is done we will arrange delivery for you as soon as possible.

4. How do you make the shipment?
Flying chair rides We suggest you ship by sea. We can help deliver the flying chair rides to the seaport near you. Or also you can arrange sea shipping by yourself.

5. How about the installation?
We can provide online support and send you an installation video. You can also send the installation manual to you. You can also go to your site to help you install it according to your needs.



Rotating Flying Chair Rides Maintenance Measures.
1. Check the anchor bolts of flying chairs every day to see if they are loose, corroded, and rusted.
2. Regularly check the foundation and foundation of the flying chair, and the foundation shall not have abnormal phenomena such as uneven settlement, cracking, and looseness that affect its normal operation.
3. Check important welds every day, and ensure that they are free from welding, cracks, and serious corrosion.
4: Please check whether the handle, safety belt, or safety pressure bar are firmly fixed and not damaged every day; The safety pressure bar should not have idle travel that affects safety, and its action should be flexible.
5. Listen carefully to see if the sound of each moving part is normal, without abnormal noise and noise.
6. Each component on the control cabinet shall be marked clearly and correctly. The components are not loose, sensitive, and reliable, the cables are not loose and damaged, the motor is well fixed and there is no abnormal sound.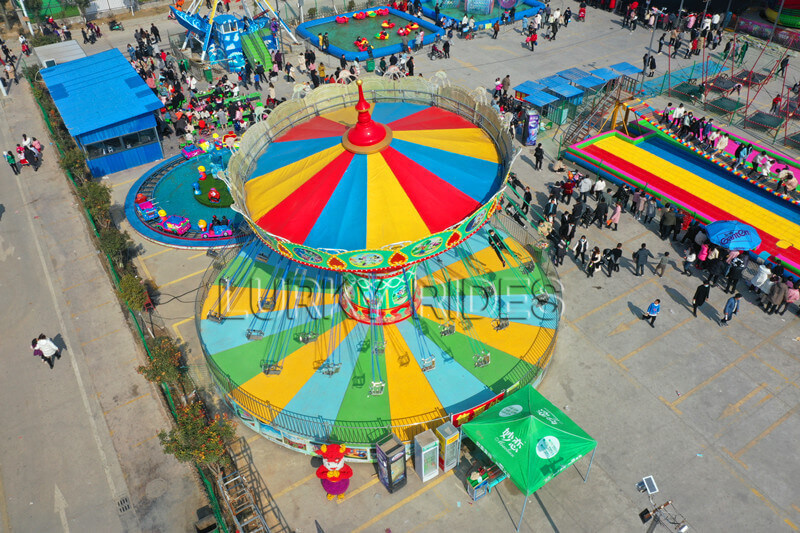 Zhengzhou Lurky Amusement Equipment Co., Ltd. is one of the biggest amusement equipment manufacturers, our products include carousel ride, flying chair ride, trackless train ride, thrill rides, sightseeing car ride, pirate ship rides, bumper car ride, water tricycle, water boat, kid rides, family amusement park ride, coffee cup ride, flying car ride, self control plane ride, train with trackless ride, inflatable bull ride, etc. Our amusement park rides had exported to Southeast Asia, South Africa, the UK, Australia, Europe, Russia, America, Italy, Middle East, and other countries and areas, enjoying good reputations.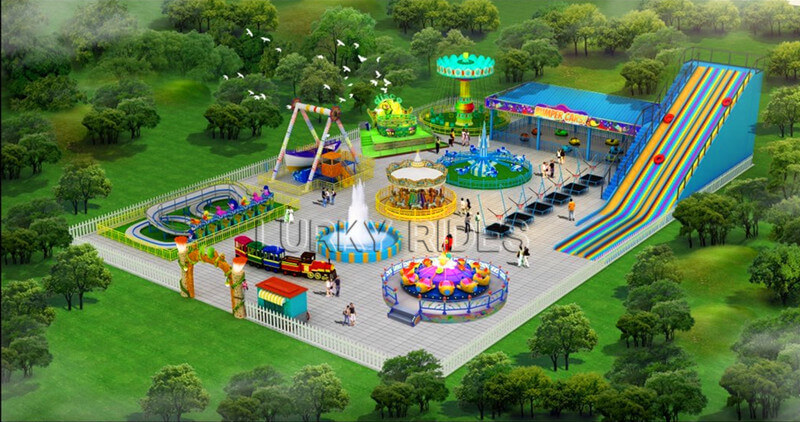 Welcome Contact Us for Details


Zhengzhou Lurky Amusement Equipment Co., Ltd.


Email: info@lurkyrides.com
Phone/Whatsapp: 0086 18135685390