What is the Multi-purpose Chinese Trackless Train
Author:admin Time:2022-05-07
Classification of Trackless Train Rides

A: According to the outside shape and carrying capacity, trackless trains can be divided into large trackless trains and small trackless trains. Large trackless train rides each cabin can take about 20-40 people. Small trackless train rides each carriage can take 4-6 people. Usually according to clients' needs can choose one head plus the different number of carriages.

B: According to the different power types, it can be divided into electric trackless trains and diesel trackless trains. No matter whether it is a large trackless train or a small trackless train, electric or diesel can be chosen.

C: According to different styles, it can be divided into Thomas-themed trains, retro-style trolleybus trains, children's cartoon-themed trains, and so on. Children's cartoon train can be divided into Ocean theme, elephant theme, etc.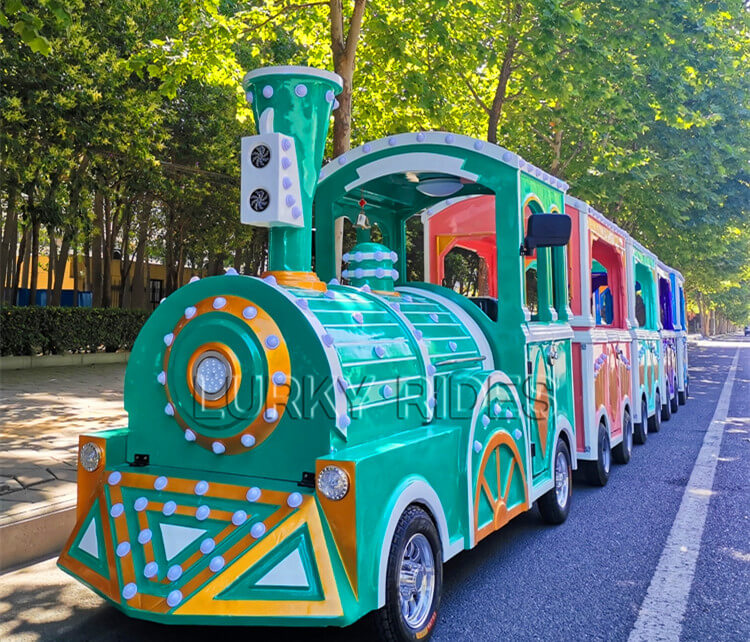 Characteristics of Chinese Trackless Train

A. The tourist landscape design along the trackless sightseeing train should be rich and varied, and the scenery to give visitors a visual feast.

B. Chinese Trackless train can effectively cooperate with other means of transportation, effectively organize the transportation system of scenic spots, and realize seamless connections between scenic spots. Trackless sightseeing trains can integrate many scenic spots, especially for large-scale scenic spots, trackless train is an effective tool to improve the traffic accessibility of each scenic spot.

C. As a special means of transportation in scenic spots, the trackless sightseeing train is not only a passenger transport function but also a tourist attraction.

D: Trackless trains are not limited by location, and can be used in shopping malls, large scenic spots, parks, pedestrian streets, real estate businesses, schools, and other places.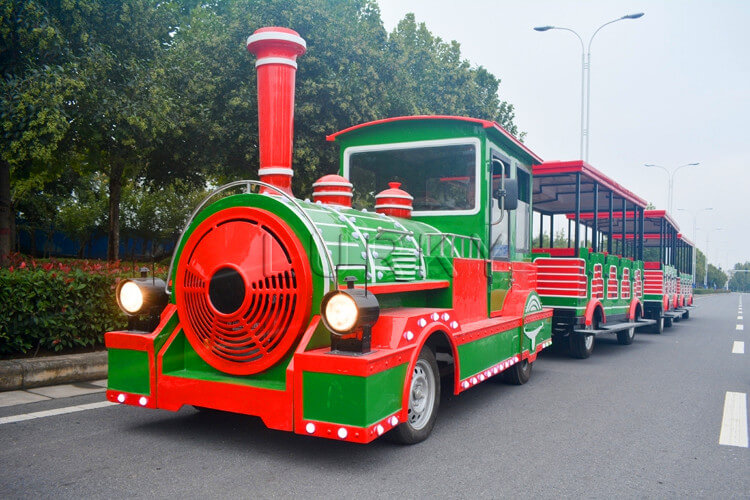 How to Choose a Suitable Trackless Train?

A: Large trackless trains are recommended for use in large scenic spots and the real estate industry. With strong carrying capacity, the train can cooperate with the surrounding environment to provide better service.

B: Inside and outside the mall, small trains, retro styles, Italian-English styles, and so on are recommended, or cartoon styles that children like.

C: Large theme parks and children's playgrounds recommend cartoon themes, which are matched with other equipment to attract people's attention.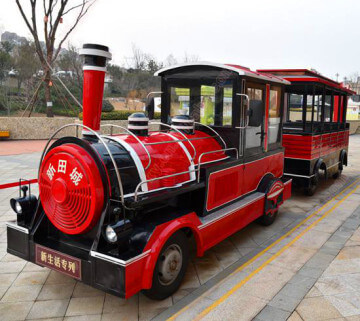 Common Inspection Items and Contents of the Electric Sightseeing Train
The daily maintenance of tourist trains in scenic spots can not be understood as simple tasks such as cleaning, painting, and lubrication.

A. Performance test, including steering performance, dynamic performance, and braking performance.

B. Structural type inspection, overall appearance inspection of an electric sightseeing train, an inspection of main stressed components, inspection of main parts and components, and traction connection of sightseeing train.

C. Measurement of main parameters, including rated passenger capacity, maximum operating speed, length, width, height, minimum ground clearance, number of carriages of a sightseeing train, number of seats in each carriage of the sightseeing train, etc.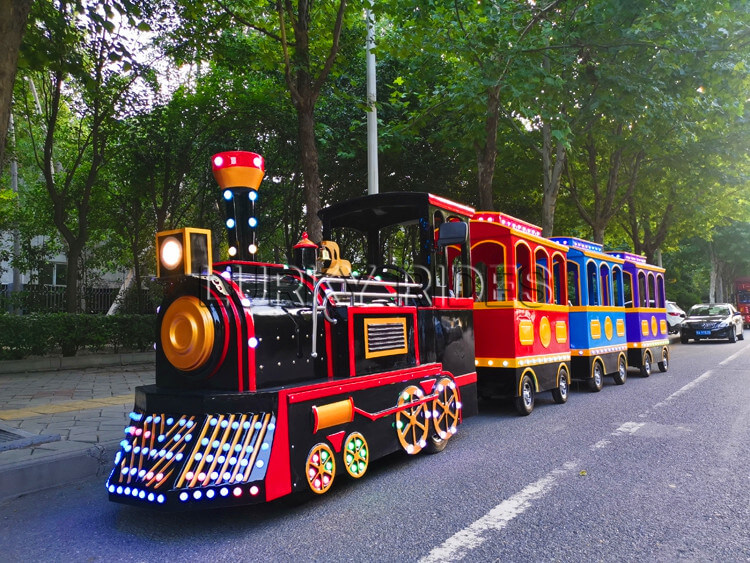 Maintenance of Trackless Train

A: Check whether the signals of directional lights, brake lights, and horns are normal before each use; Whether the steering mechanism is flexible; Whether the braking system operates reliably; Whether all kinds of indicator lights work normally; If there is any abnormality in the above situation, it should be eliminated immediately;

B: Electric trains carry tourists to scenic spots for a long time. After a certain mileage, tires will wear out. Generally speaking, the wear position and degree of several tires are different, and the wear degree of the front wheel is usually greater than that of the rear wheel. Whether the tire is worn or damaged, for example, when the tread of the tire is worn to the depth of groove less than 16mm or the surface of the tire is cracked or damaged, the tire should be replaced immediately.

C: The surface of the battery, connecting wires, and bolts should be kept clean and dry. The connection of the battery must be kept in good condition. Always check whether the fastening nut of the battery line is loose, so as not to cause sparks or burn out the pole. Do not place metal conductive objects on the battery cover, so as not to cause a short circuit and burn out the battery.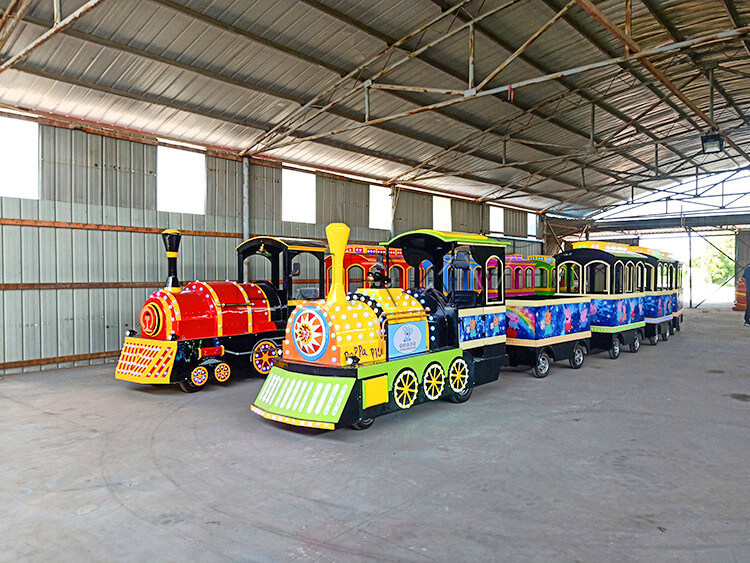 Lurky Amusement Rides' Trackless Train
Trackless train manufacturer Lurky's trackless train rides the train materials are FRP and steel. The structure is mainly steel, and the shell of the train is made of glass fiber reinforced plastic. According to customers' requirements and preferences, we can design the color matching of products and the overall theme design of the equipment. All paints are automotive paints, and the equipment is beautiful in appearance, colorfast, and anti-corrosive.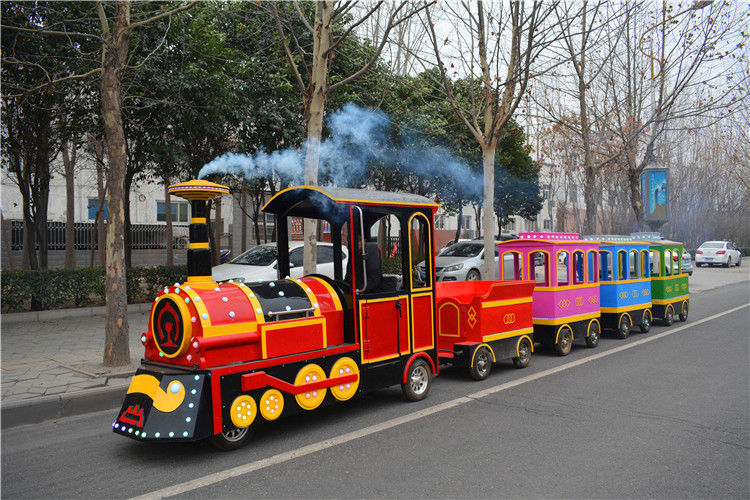 Zhengzhou Lurky Amusement Equipment Co., Ltd. is one of the biggest amusement equipment manufacturers, our products include
carousel ride
,
flying chair ride
,
trackless train ride
,
thrill rides
,
sightseeing car ride
,
pirate ship rides
,
bumper car ride
,
water tricycle
, water boat,
kid rides
,
family amusement park ride
,
coffee cup ride,
flying car ride
,
self control plane ride
, train with trackless ride,
inflatable bull ride
, etc. Our amusement park rides had exported to Southeast Asia, South Africa, the UK, Australia, Europe, Russia, America, Italy, Middle East, and other countries and areas, enjoying good reputations.
Welcome Contact Us for Details
Zhengzhou Lurky Amusement Equipment Co., Ltd.
Email:
info@lurkyrides.com
Phone/Whatsapp: 0086 18135685390