Built 25m Height Ferris Wheel in Panama
Author:admin Time:2021-11-09
Specification of Ferris Wheel
Total height: 25 meters
Numbers of cabins: 16 pieces
Total capacity: 64 passengers
Space area: 15*15 meters
Gross weight: 34 tons
Container type: 40HC *3 pieces
Delivery time: 30 working days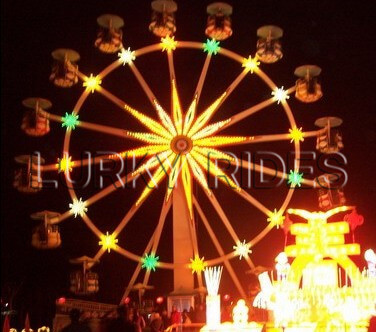 Ferris Wheel Customer Visit
We went to the airport to pick up our clients, then back to the factory to visit our workshop, our workers are busy producing Flying UFO, 40 persons pirate ship, Ferris wheel, etc. Our customers are satisfied with our quality and our team, they back to Panama one week later confirmed the order with us, they decided to buy one set of 25m height Ferris Wheel.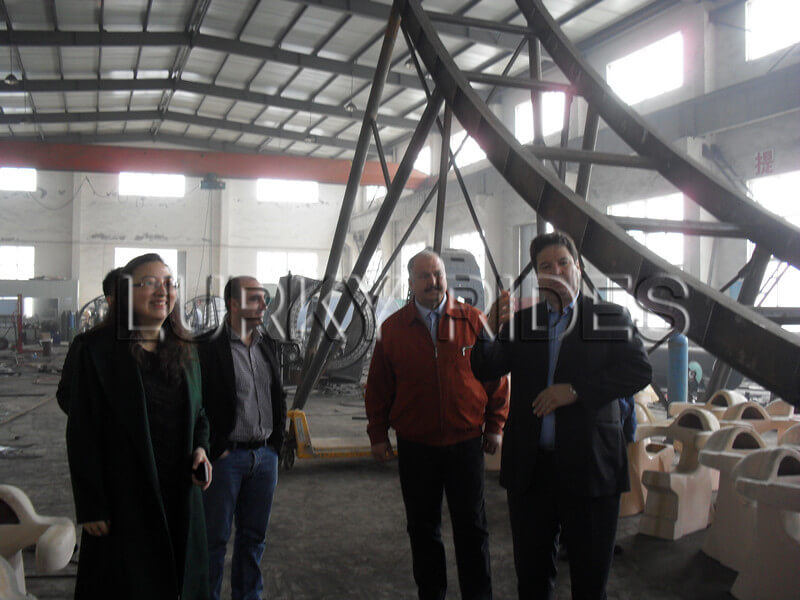 Ferris Wheel Production Process
After we received a 30% deposit, we start the production of the Ferris wheel, colors are customized according to the client's demands, he demand we make half of the cabins in red and another half of the cabins in green, the center LED lights decorations are also red and green. During the production, we also support video calling to check the production process.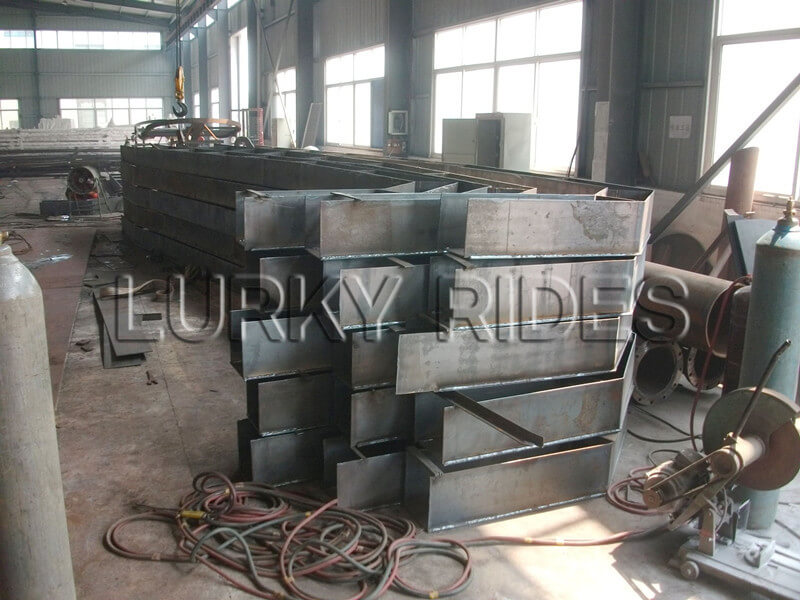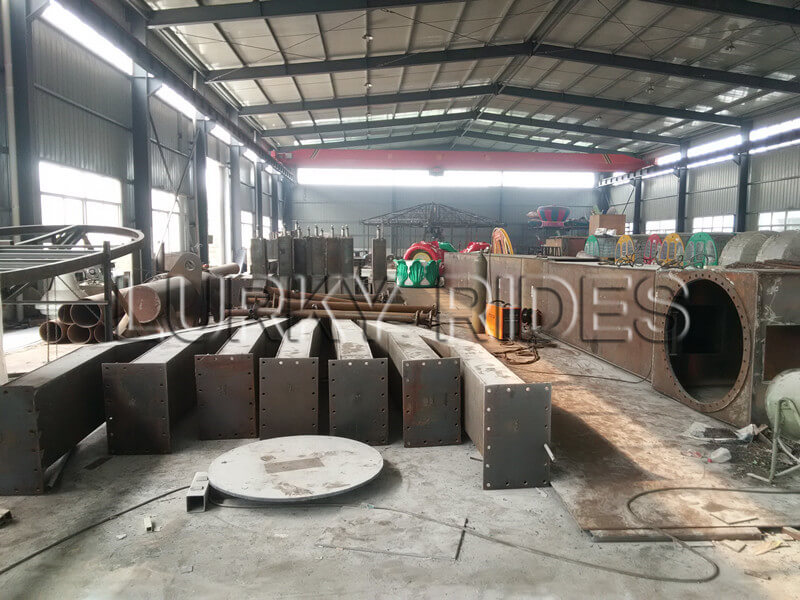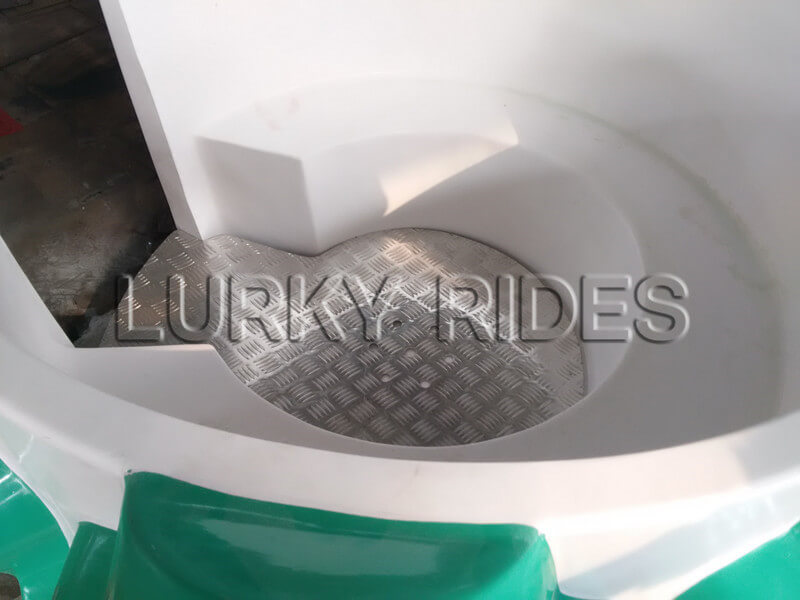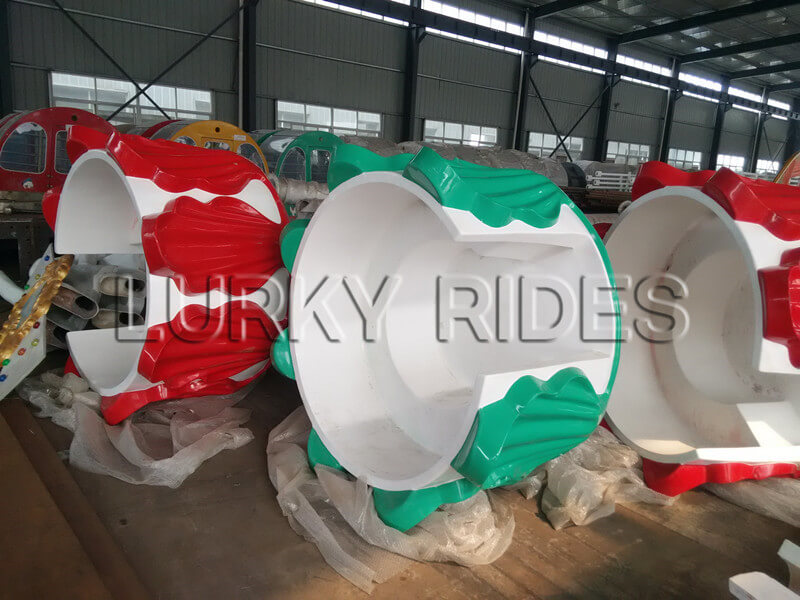 Ferris Wheel Package and Delivery
30 working days later, we finished the production and prepare to arrange the delivery. We pack the cargo with cotton and water-proof cloth, then use sticky tape wrap it, so that can protect the cargo well, the cargo won't be damaged during the long-term distance shipping, please don't worry about that.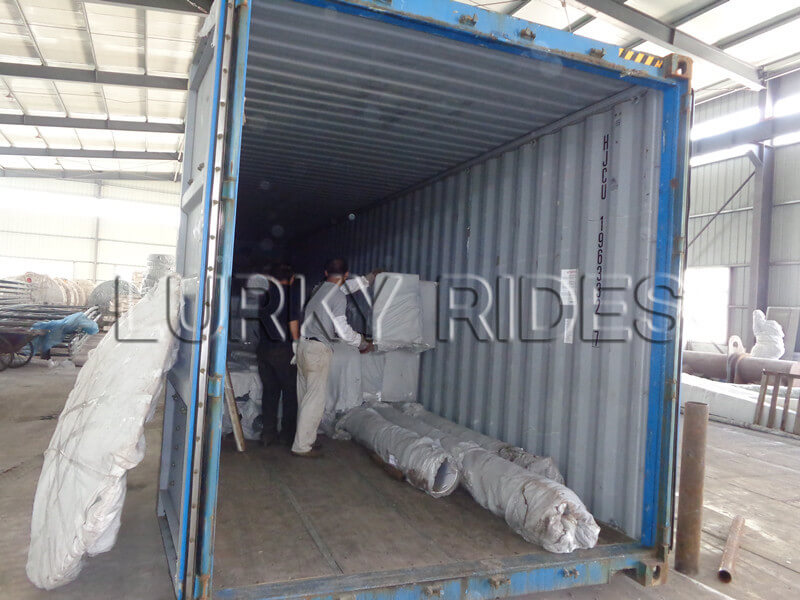 Regarding this shipment, 25m height Ferris wheel needs three pieces of 40 feet high container in total.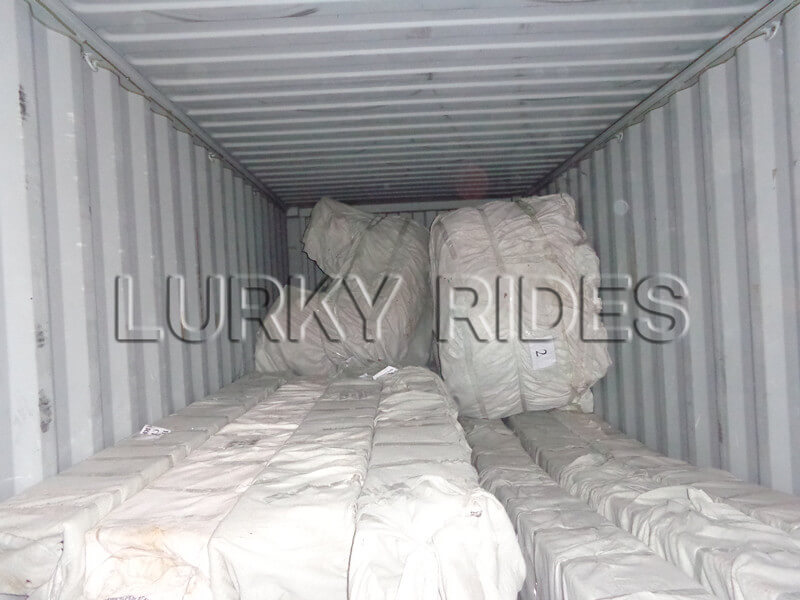 Ferris Wheel Installation
Because our clients demand us arrange the worker to Panama and help they install the Ferris Wheel, we arrange one worker to his country and cost about 10 days finished the production. Certainly, the client should find four or five workers in your local to assist with the installation.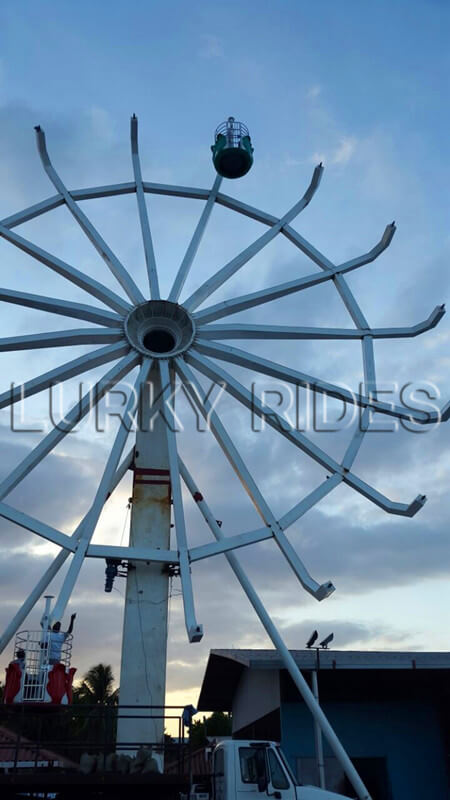 Regarding the installation, if necessary, we will arrange one or two workers to your country as technical guidance, you should provide round trip tickets, visas, and accommodation, besides, we will charge labor costs 100 dollars per day per person. If not necessary, we will provide an installation manual and drawing to you, we also support video calling guidance.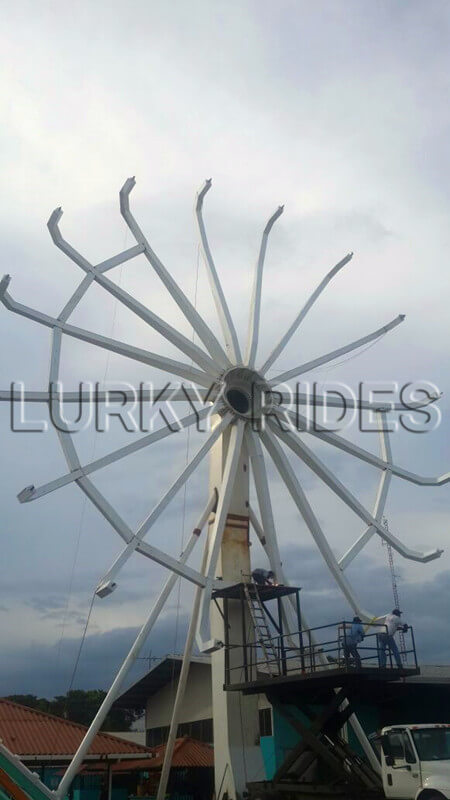 Ferris Wheel Finished
After the installation finished, the technician take a picture with our client and his family ( his wife and his daughter). They are satisfied with our Ferris wheel and glad to cooperate with our company.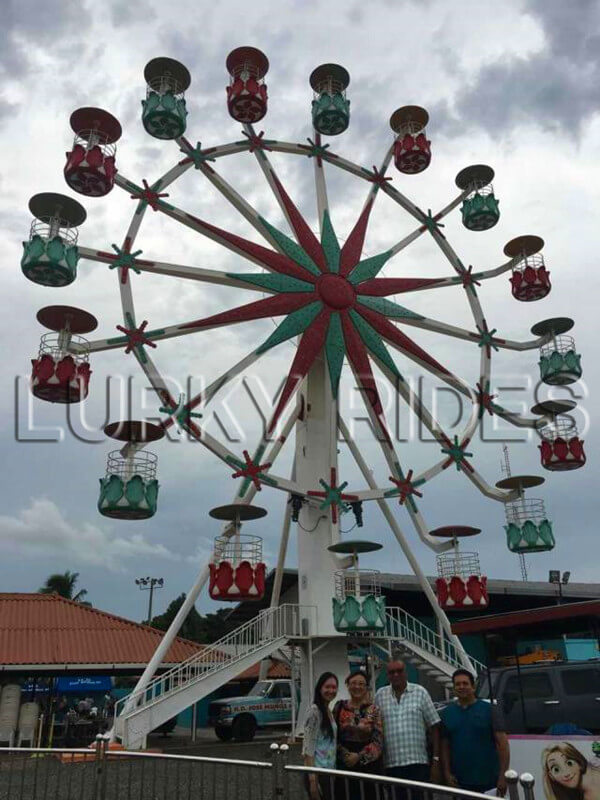 Regarding Ferris Wheel, we also have other different heights for your choice:

A). 12m height Ferris Wheel, specification as follows:
-- Total height: 12 meters
-- Numbers of cabins: 6 cabins
-- Total capacity: 24 persons
-- Container type: 40HC*1 piece

B) . 20m height Ferris Wheel, specification as follows:
-- Total height: 20 meters
- Numbers of cabins: 12 cabins
-- Total capacity: 48 persons
-- Container type: 40HC*2 pieces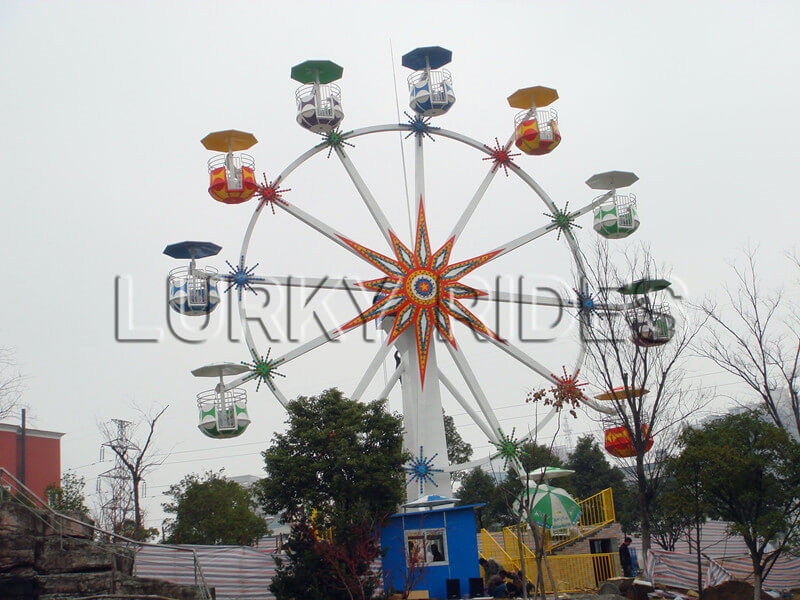 B) . 30m height Ferris Wheel, specification as follows:
-- Total height: 30 meters
-- Numbers of cabins: 18 cabins
-- Total capacity: 72 persons
-- Container type: 40HC*4 pieces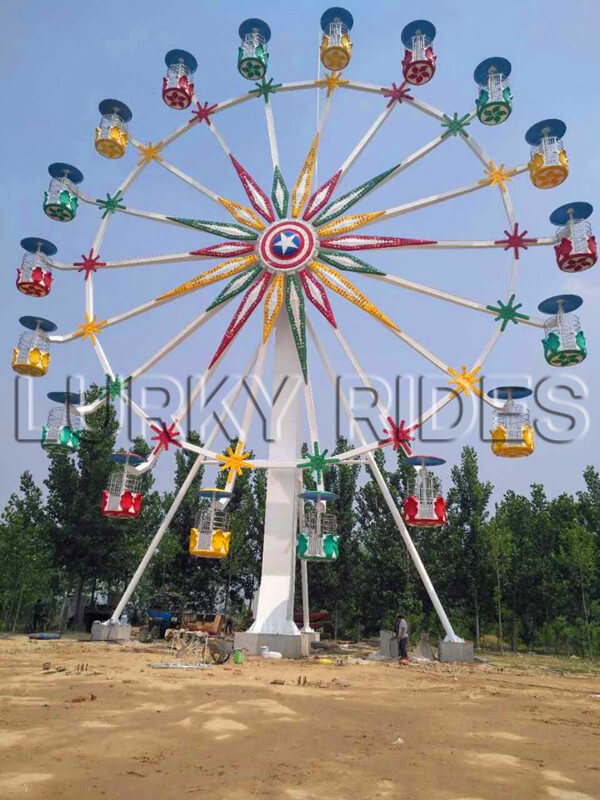 D). 35m height Ferris Wheel, specification as follows:
-- Total height: 35 meters
-- Numbers of cabins: 20 cabins
-- Total capacity: 80 persons
-- Container type: 50HC*4 pieces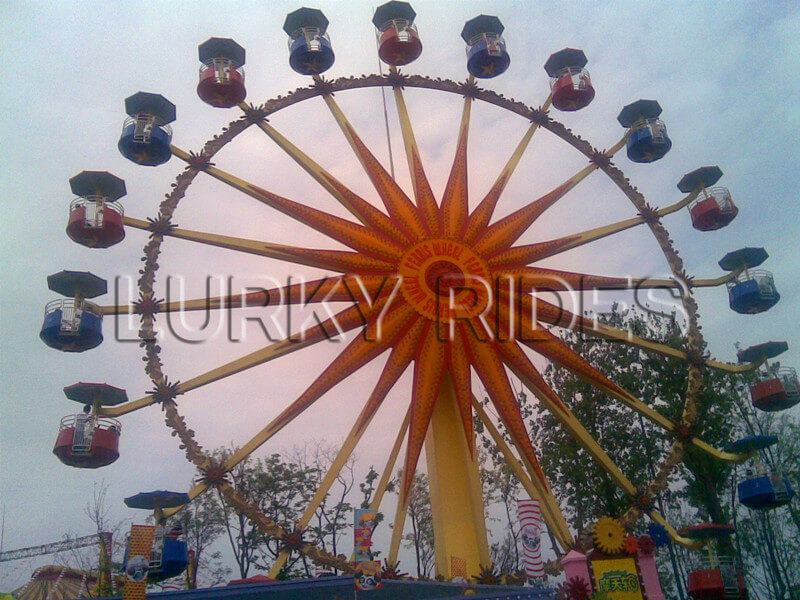 Above are pedal- basket type Ferris Wheel, cabins are made of fiberglass, these open-type cabins have a wide view, colors are more bright. Except for this model, we also have another Ferris Wheel with alloy cabins.

E). 30m height Ferris Wheel with alloy cabins
--Equipment height: 30 meters
--Numbers of cabins: 18 cabins
--Total capacity: 72 persons
--Space area: 18*20m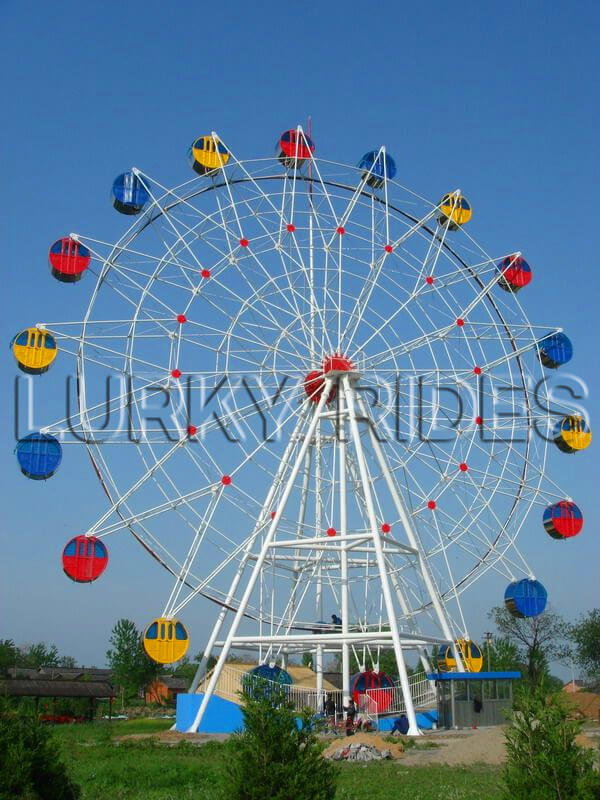 F). 42m height Ferris Wheel with alloy cabins
--Equipment height: 42 meters
--Numbers of cabins: 24 cabins
--Total capacity: 96 persons
--Space area: 28*31m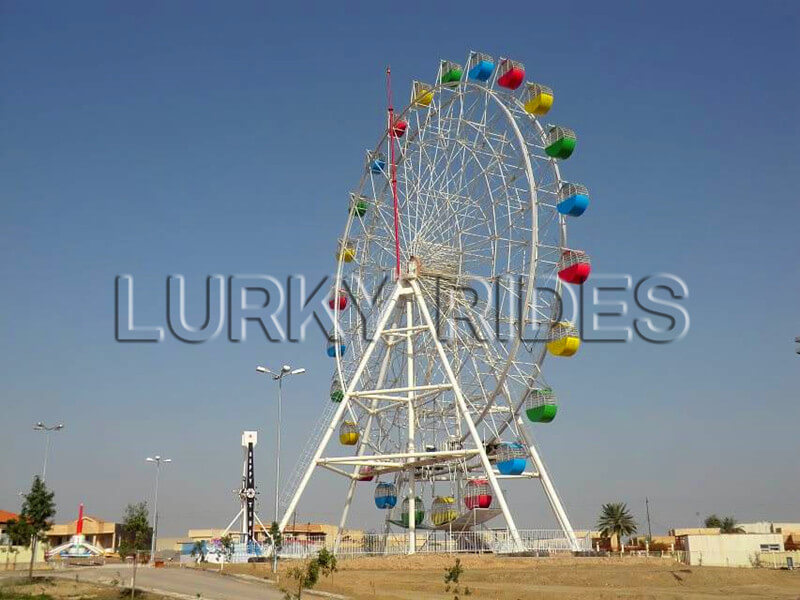 G). 50m height Ferris Wheel with alloy cabins
--Equipment height: 50 meters
--Numbers of cabins: 32 cabins
--Total capacity: 128 persons
--Space area: 32*35m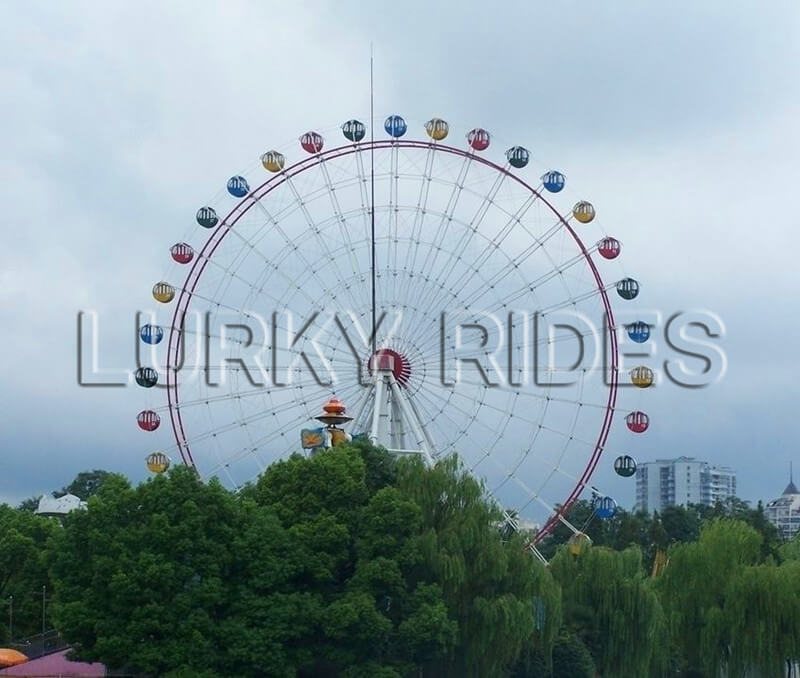 H). 65m height Ferris Wheel with alloy cabins
--Equipment height: 65 meters
--Numbers of cabins: 36 cabins
--Total capacity: 216 persons
--Speed: 0.227 m/s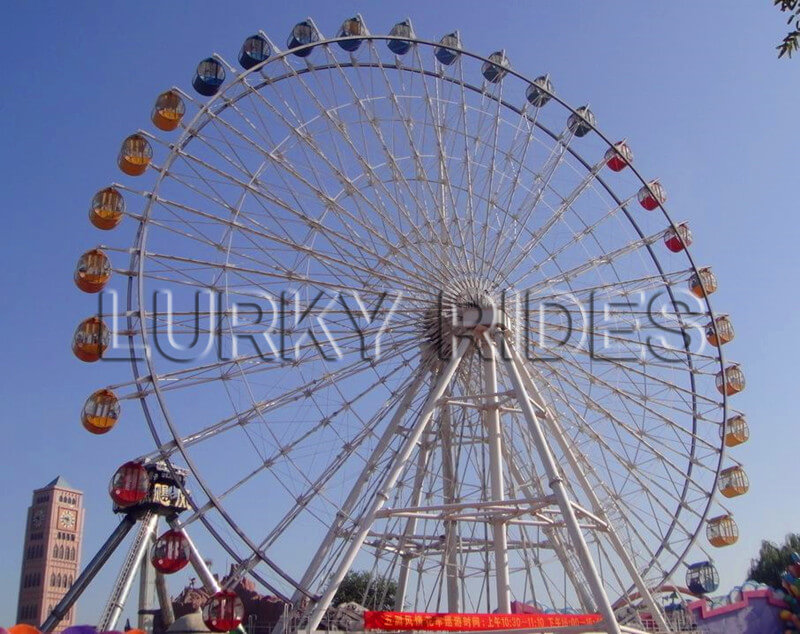 I). 88m height Ferris Wheel with alloy cabins
--Equipment height: 88 meters
--Numbers of cabins: 48 cabins
--Total capacity: 288 persons
--Speed: 0.28 m/s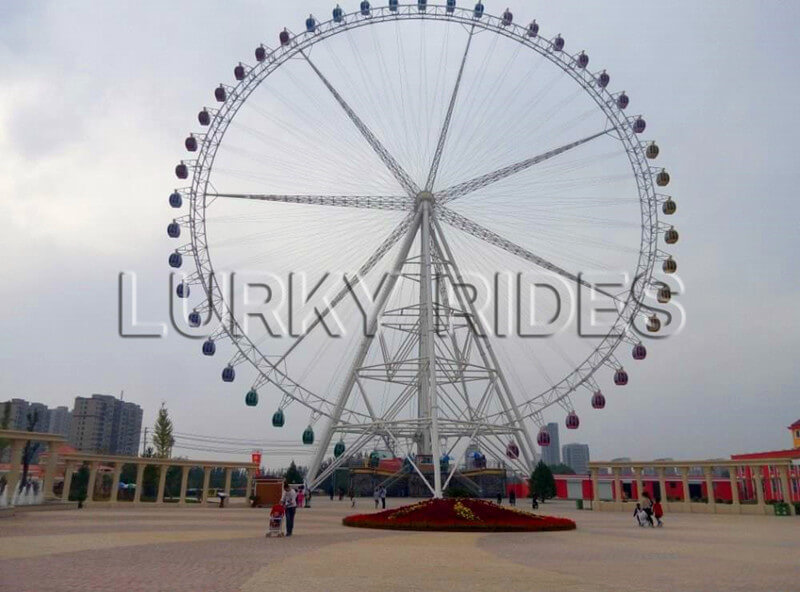 Usually, if the Ferris Wheel height is below 50 meters, we use 4 persons/ cabin for the equipment, if the height is above 65 meters will use 6 persons/ cabin for the equipment. Certainly, if clients have special demands on the cabins and capacity, we accept customization. Even if add air conditioning systems are available.

If you have a requirement on Ferris Wheel, welcome to consult Lurky Amusement Equipment Co., LTD, we can provide suitable items according to your budget.

If you plan to build a new park, we also have other product series to choose from:
kid's rides ( carousel, electric train series, trampoline, etc).
Adults rides ( trackless train, pirate ship, flying chair, bumper car, etc).
Thrilling rides ( 360 degrees pendulum, roller coaster, drop tower ride, top spin, etc).

Zhengzhou Lurky Amusement Equipment Co., Ltd.

is one of the biggest amusement equipment manufacturers, our products include

carousel ride, flying chair ride, trackless train ride, thrill rides, sightseeing car ride, pirate ship rides, bumper car ride, water tricycle

, water boat,

kid rides, family amusement park ride, coffee cup ride, flying car ride, self control plane ride

, train with trackless ride,

inflatable bull ride

, etc. Our amusement park rides had exported to Southeast Asia, South Africa, the UK, Australia, Europe, Russia, America, Italy, Middle East, and other countries and areas, enjoying good reputations.





Welcome Contact Us for Details


Zhengzhou Lurky Amusement Equipment Co., Ltd.




Email:

lurkyplay@sinolurky.com


Phone/Whatsapp: 0086 18135685390