Product Details:
| | |
| --- | --- |
| Capacity | 2 persons/car |
| Size | 1.95*1.15*0.96m |
| Voltage | 24V |
| Type | Electric bumper car |
| Where to use | playground, amusement park, theme park, shopping mall, backyard etc |
| Brand | Lurky® |
Smiley Bumper Car Introduction
The smiley bumper car is a type of ground net bumper car, which is a classic and popular amusement ride all over the world, suitable for people of all ages. Passengers will enjoy thrills and joys during bumping. It uses the ground to conduct electricity to urge the bumper car to run.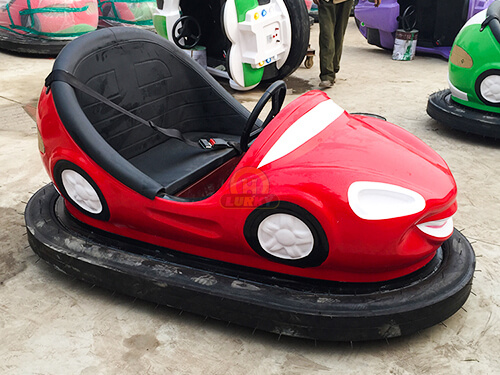 Lurky® bumper cars are environmentally friendly, corrosion-resistant, stable in performance, fashionable in appearance, novel in style, durable in use, strong in drift and have obvious technical advantages. Lurky® also can offer different designs for the bumper car ceilings, such as animal theme, star-war theme, ocean theme, etc. That is to say, it can be customized. We will try our best to make you satisfied.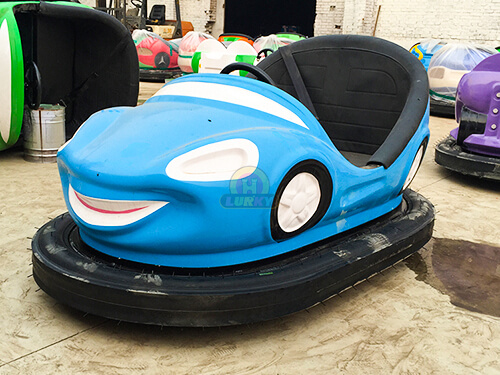 The steering wheel is equipped with anti-collision strips and the seats are equipped with safety belts. To ensure the safety of every passenger when there is a strong impact during the use of the ground net bumper car. Let every passenger play in a safe environment.

The shell is novel and beautiful, and the thickening treatment is more durable. Colors are bright, there are many colors to choose from, with lighting decoration, and new back design, more attractive to passengers.

Smiley Bumper Car Advantages
1. Fiberglass car body, Lightweight and durable, not easy to damage.
2. the color collocation is very reasonable and very bright. And there are many styles to choose from.
3. The chassis is stable and safe, with very strong bearing capacity and a strong interest.
4. Rubber tires are wear-resistant, durable, long in service life, safe and reliable.
5. We have a floor installation team and can provide floor installation service if you need it.
6. Professional production and installation team, factory direct supply.